Baxter Arena Information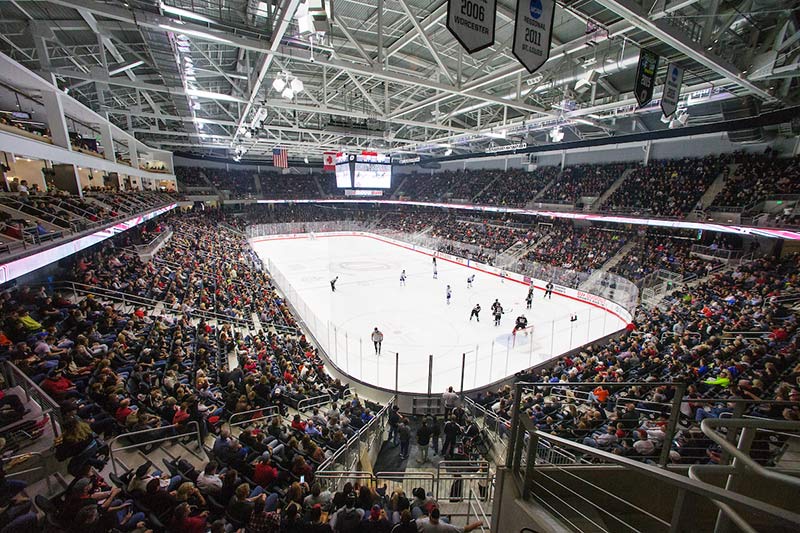 Once known as teh UNO Community Arena, the Baxter Arena is the sports arena owned and operated by the University of Nebraska Omaha (UNO). It is located in Omaha, Nebraska and has been servicing spectators and fans since 2015. It is currently the home arena of several of UNO's athletics programs including the Omaha Mavericks' men's and women's ice hockey and basketball teams. The doors first opened to the public on October 23, 2015 when fans saw the Mavericks ice hockey team take on Air Force.
Features
The Baxter Arena is arranged to have a seating capacity of 7,898 visitors. It also has room for 17 luxury suites, 750 club seats, and a 750-seat student section. And it also has two separate ice sheets, the main one used for matches and a practice one.
Speaking of the sheets, fans entering for the first time will notice that the practice ice is easier to see if you enter through the main gates. The reason for this is UNO's commitment to ensuring that at least a third of the venue's ice time is used for the community.
History
The arena got its start in 2012 when Omaha mayor Jim Suttle announced that the OMaha Civic Auditorium would close in 2014. The closure was due to the rising maintenance costs of the aging arena. While this decision would save money for the city, it would also leave Omaha without a mid-sized indoor venue. And this would obviously affect the Mavericks ice hockey team. Because at the time, it held its practices at the Auditorium. Also, the team's main arena, the CenturyLink Center Omaha, was seen as too large for the hockey program's needs.
So the university got to work on planning for a new arena.
They chose a site at the Aksarben Village development which had become integrated with UNO's campus in recent years. After finding approval by the University of Nebraska Board of Regends on March 15, 2013, construction began. Originally, the project was going to be funded through donations, but UNO negotiated a naming rights deal with Baxter Auto, a group of local auto dealerships in Omaha for $400,000 over 10 years.
Since it's been completed, the arena has become home to the Mavericks hockey and volleyball teams. And it has also become home to some of the biggest concert events around.
More Baxter Arena at University of Nebraska Omaha information:
Ticket Policy:
Read about ticket information, authenticity guarantees and policies from our recommended ticket marketplace.
Seating Map:
Review the Baxter Arena at University of Nebraska Omaha seating map and read more about the different seating arrangements.
Parking Information:
Driving to Baxter Arena? Read more about the various parking options here.